Summary
Anecdotal stories talk of significant Chinese buying in the West Coast housing markets.
There is evidence of a significant West Coast price effect.
Could this bubble pop if the Chinese crack down on capital flight?
When you talk to real estate agents on the west coast they talk of the preponderance of Chinese buyers, buyers that pay all cash and in some cases buy sight unseen. And in at least Los Angeles we can see neighborhoods that have seemingly swung to an extremely high concentration of mainland china residents.
In addition when we review the Chinese national accounts we can see large drawdowns of foreign reserves and that their holdings of U.S treasuries are dropping significantly – all evidence that the Chinese government is mitigating or managing this capital flight.
So while we see signs of the influx of Chinese buying is it having a measurable impact on the price of homes in these U.S. West Coast markets?
China's Total Foreign Currency Reserves (excluding Gold)

Source: Federal Reserve Economic Database (NASDAQ:FRED)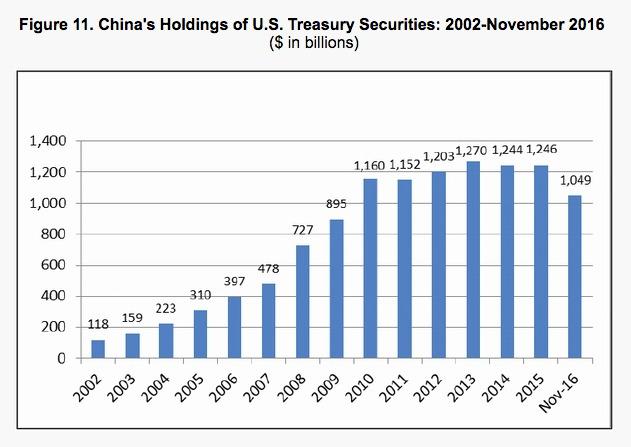 Source: US Treasury Department
When you review the housing data you see a significant West Coast bias. Using the S&P Case-Shiller 20 City Home Price Indices for the individual cities you can see 5 of the top 7 cities in home price appreciation from 2000 are from the West Coast (along with Miami, which also has a significant amount of foreign buying and D.C.). In addition these 7 cities are the only ones that are significantly above the broad 20 City Composite Index Price for this time period. This shows how these foreign buyer influenced markets (and the District of Columbia) are generating a vast majority of the price momentum in the U.S. housing market since 2000.
S&P Case-Shiller Home Price Indices
% Home Price Increase
% of 2006
% Deviation from 2000
From Jan-2000
Bubble Top
Composite Increase
Los Angeles
254.4
94.5
31%
San Fran
232.5
107.6
20%
San Diego
231.0
92.8
19%
Miami
220.6
80.5
14%
D.C.
218.7
87.2
13%
Portland
211.9
123.5
9%
Seattle
207.5
122.5
7%
Boston
195.8
109.8
1%
20 Composite
194.3
94.8
0%
Tampa
192.8
81.8
-1%
Denver
192.5
139.1
-1%
New York
186.1
86.6
-4%
Dallas
169.5
139.5
-13%
Phoenix
164.7
73.7
-15%
Minnesota
155.8
90.6
-20%
Las Vegas
154.7
66.6
-20%
Charlotte
143.4
118.1
-26%
Chicago
138.9
83.1
-29%
Atlanta
133.1
101.9
-32%
Cleveland
113.7
93.0
-41%
Detroit
110.9
86.9
-43%
Source: Federal Reserve Economic Data
This buying has driven these West Coast cities either close to or significantly higher than their 2006 bubble highs, which by all standards of the time were considered unsustainable. When we look at the prices compared to the overall 20 city index, Los Angeles has 31% greater price appreciation from 2000 than the U.S. at large. In addition if you exclude these foreign buyer/high appreciation cities from the composite index the index's home price growth would drop by 20%.
Given the current median home price in Los Angeles County of $520,000 (Source: LA Times – Corelogic) that would imply that foreign/Chinese buying has driven somewhere between 31% and 51% of the price increase since 2000. Using the Shiller Price Index the increase since 2000 was $315,600 so somewhere between $98,000 and $160,000 can be attributed to foreign buying and primarily Chinese buying in the Los Angeles area alone.
If that buying is sustainable then those price increases should also be sustainable. The problem is that Chinese Foreign Currency Reserves have dropped by $1 trillion dollars since 2014, from $4 trillion to $3 trillion. While $3 trillion remains a very large number, the fact that a large amount of those reserves are illiquid, and that credible estimates suggests China must maintain $2 trillion in operational reserves to facilitate the foreign trade activity of their economy, makes this number much smaller and more limited.
With the current drawdowns, the level of reserves should be more than adequate to maintain the status quo through the Chinese Communist Leadership meetings this fall. These meetings are critical to President Xi's control of the country and any major policy changes before then are likely to be minimal. However after this fall, especially as the Fed's tightening cycle creates more pressure for the Renminbi to depreciate, capital controls become much more likely. If capital controls are implemented the risk is that this Chinese real estate buying could be suddenly curtailed.
With rising mortgage rates (as part of the Fed tightening cycle) and the risk of a sudden curtailment of foreign buying West Coast residential real estate looks particularly vulnerable to a major shock. Given this watch out for the deflation of another housing bubble as early as this fall.
Disclosure: I/we have no positions in any stocks mentioned, and no plans to initiate any positions within the next 72 hours.
I wrote this article myself, and it expresses my own opinions. I am not receiving compensation for it (other than from Seeking Alpha). I have no business relationship with any company whose stock is mentioned in this article.